Is Your Resume Sending
the Wrong Message?
You only have 6 seconds to make an impression. Does your resume measure up?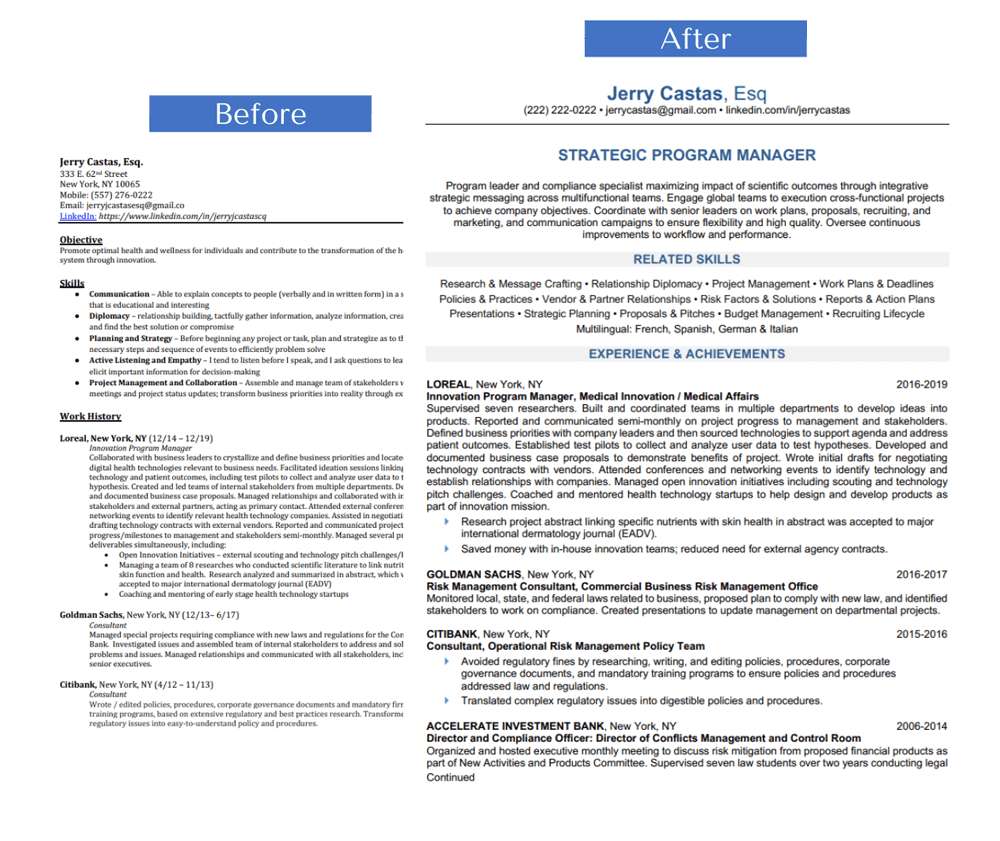 Career Change

- Resume Sample
Changing careers or making a pivot is one of the most difficult career moves you can make. To write a career change resume requires heavy analysis around your transferable skills and those specific skills that will be valued in your new job. It further requires strategic branding to pull out those transferable skills in every piece of relevant past experience. It is not enough to simply build upon your old resume. Rather you must comb through each piece of experience to find the pieces that will be used in reconstructing your experience into a career changeable brand. If it sounds complicated, that's becaus it is! Notice in this example, how the template has been completely overhauled to more strategically organize the key info. Also note the use of a tailored branding statement at the top of the resume. This statement is further supported by the targeted keywords in the Skills section below. To write a career change or pivot resume requires a keen eye for the right detail. It is difficult but not impossible. After receiving his new resume, this client went from 9 months of job searching to landing an interview and job offer within 5 days!
Career Relaunch

- Resume Sample
A career relaunch is similar to a career change in that it is an extremely challenging move to make. This move can become even more challenging the longer one has been away from the workforce. To complicate matters, career relaunch professionals in the 50-plus age category usually also struggle to regain the confidence needed to achieve their new brand internally and externally on paper. This is where strategic resume branding can be extremely valuable.  A professionally-written resume will serve as the main vehicle for boosting confidence.  A fresh resume can allow relaunch professionals to see their brands alive on paper. It allows these professionals to SEE the fit. And if you can see it, you can then achieve it! Critical to the relaunch resume is the collaboration process - specifically the writer's ability to draw out all of the buried skills and achievements. Also critical to this type of resume is the writer's ability to fill experiential gaps in ways that won't alert hiring managers. With the right relaunch resume you will experience quicker response rates because the hiring side will have greater clarity on exactly what you can do once you're hired!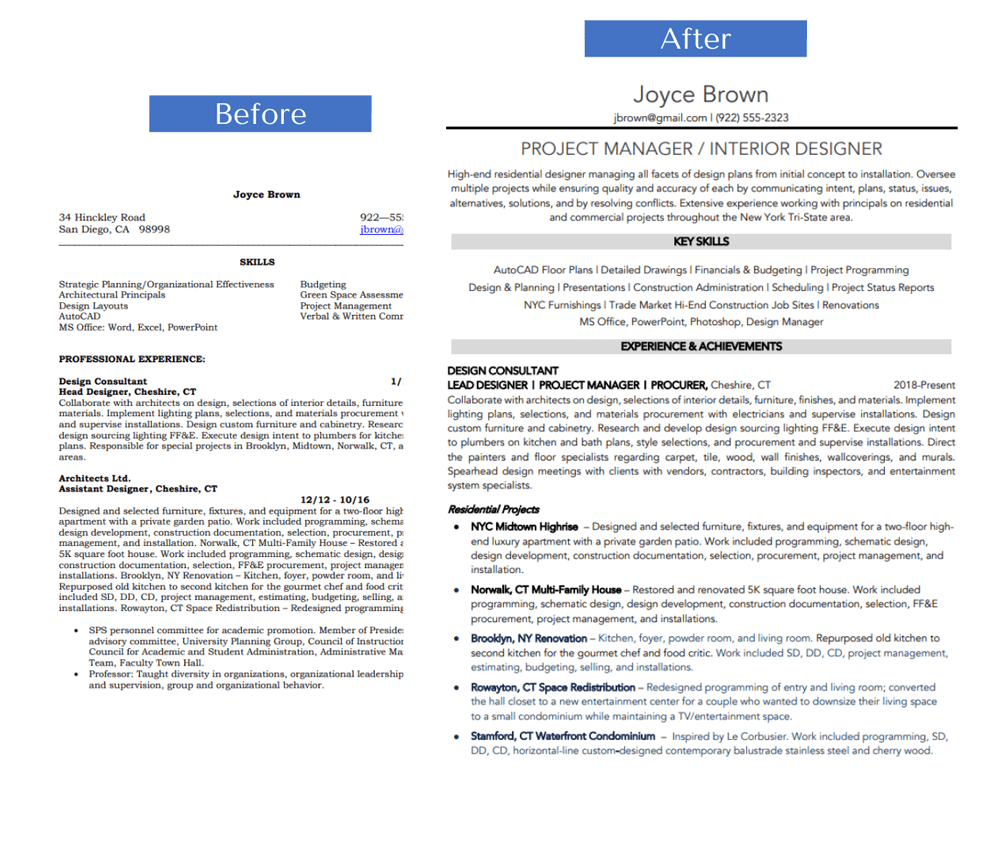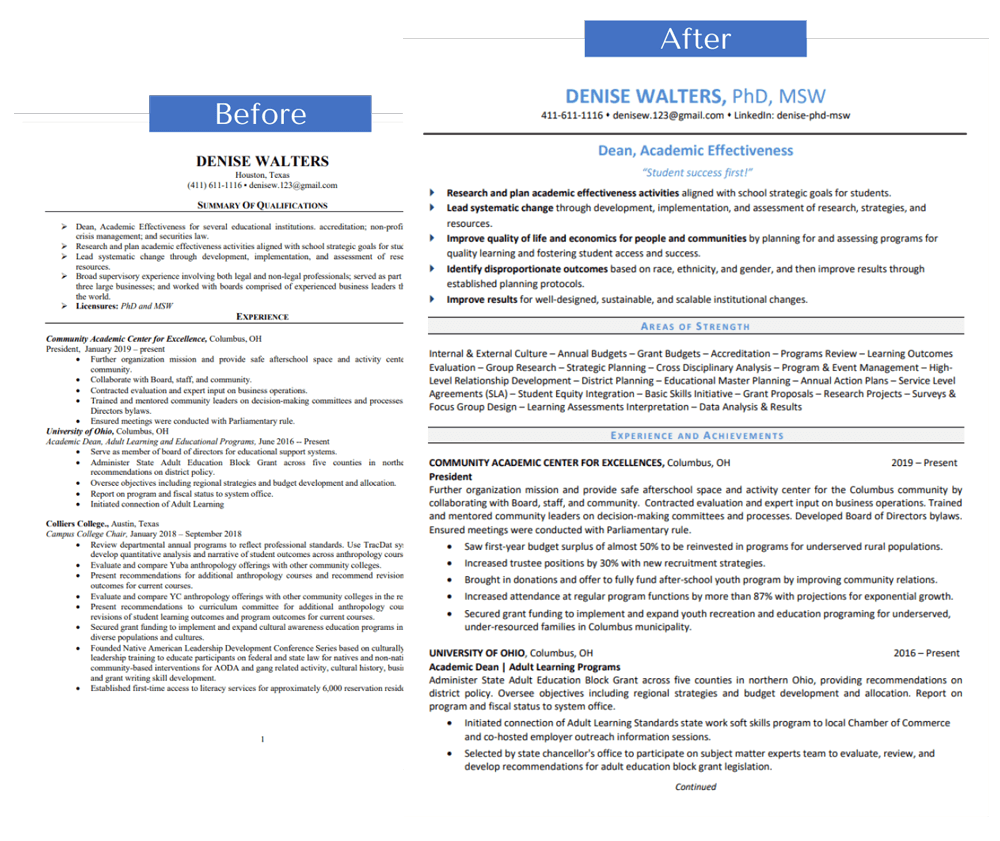 Executive

- Resume Sample
Executive resumes are a breed all their own and deserve high-end resume writing treatment. Competing for jobs at the executive level is rigorous. There are fewer jobs at the top of organizations and therefore fewer hires to be made. Because of this, executive job candidates have to get their resume branding absolutely right! Most importantly, an executive is defined by his or her career achievements. If those career achievements are buried in the resume, the executive brand will be lacking. Each and every bullet must be strategically used to highlight an accomplishment (not a task)! The entire resume should contain value-add that the executive has brought to past organizations. Finally, the resume should be visually sharp. Heavy blocks of text with little strategic grouping will only downplay achievements. Critical to the executive resume writing process is organizing the information and achievements in a way that will speak to your immediate value.